Parent Teacher conferences are a crucial opportunity to connect with parents and guardians, share valuable insights about their child's progress, and collaborate on strategies to support their education journey. At Fair Winds Teaching, we understand the importance of these conferences and have curated a selection of resources that can help streamline your conference preparation and make these meetings more productive and engaging.
Love all the resources above? Check out the Parent Teacher Conference Bundle, where you can get everything above for 30% off!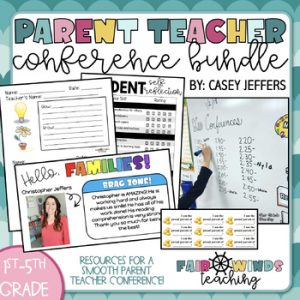 At Fair Winds Teaching, we believe that effective parent-teacher conferences are built on communication, collaboration, and preparation. Our resources are designed to help you streamline the process and make the most of this valuable time. Explore these tools today and ensure that your parent-teacher conferences are a success!
Shop Now for these helpful resources, and make this conference season your best one yet. Together, we can create meaningful connections and support student success. And find out how you can get access to EVERY FWT Resource for a one-time low cost by clicking here!
More on FWT! Check out my post on the Igniting Curiosity: The Power of a Great Science Curriculum!
Save These Parent Teacher Conference Tools!
Don't forget to pin this post to your teacher board to keep these great Parent Teacher Conference Tools handy! And "Follow" Fair Winds Teaching to stay up to date on all the latest!