Plickers! Ever heard of them? I hadn't… until now.
Plickers is a powerfully simple tool that lets teachers collect real-time formative assessment data without the need for student devices. Where have you been all my life?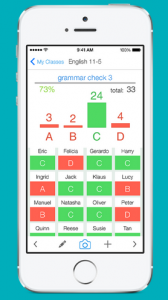 Photo Credit: https://plickers.com/
I teach in a community where the students do not have access to devices at home or at school. Unless you are at a school that is able to provide each student with a device, one is not able to use assessment programs like Kahoot!
Plickers allows you to use only one device (that has the Plicker app) to scan printed cards to have students answer questions.
To download the app from the Apple store, click here. You can also download the Android Google Play app here.
Thank you to Justin Heid from Frederick County Public Schools for sharing this awesome Prezi he created on how to get started using Plickers! I will defiantly be using this with my staff!