Welcome to a new school year!
This is always my favorite time of year! I love to generate new ideas and set up my classroom for a new group of students. With each new school year, I get more organized and can focus on different parts of my classroom. This year, I will be opening a brand new school building. With all of this excitement, comes a lot of new things to get done. This is my first move from school to school so the packing and unpacking alone has been crazy. As a thank you for being such amazing followers… here is a FREEBIE to hang up in your classroom until your students come. It adds some jazz to any board, Amazing work…coming soon!
Storage solutions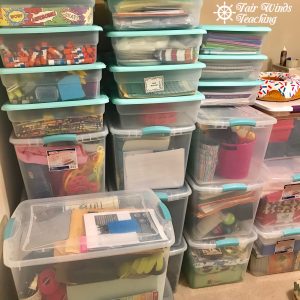 My garage and spare bedroom has become riddled with boxes and bins all summer. The best decision I made was to order these amazing clear Sterilite (66 quart) bins to pack up my classroom. Everything has a spot, the bins are clear so it is easy to see inside and most importantly… they are all teal. I would highly recommend spending the money to do this. Anything that doesn't fit in one of these bins after I unpack my classroom this year… goes!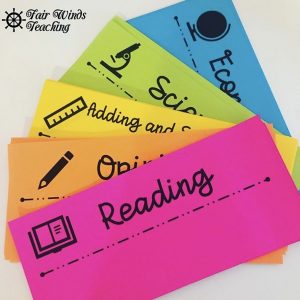 Files, files, and more files…
Having a organized classroom is important to set your year off right. I don't own a lot of printed paper files because I am mostly digital, however, I needed my files to be ready to access throughout the year so I can fully use all of my resources.I created these Big File Folder Labels to print on Astro-Bright paper in either Cool colors or Bright so that each subject stands out in my filing cabinet. I also use these amazing Smead File Folders from Amazon. You can either use my pre made subject labels or use the editable template in PowerPoint to create your own. Simply print them on brightly colored paper and cut then with a bottom boarder. Then laminate and tape them onto the file folder or divider to separate the sections.
The Best Turn in Bin EVER!!
As you are setting up your classroom, think about how you would like to have your students turn in their completed work. This. Right. Here. was a game changer last year. I labeled each of the file folders with a number and assigned them to students. When they completed their work, they turned it in the bin. If they weren't ready to turn in their work, they placed it in the ketchup folder. It was so easy to grade and return papers, not to mention I had quick access to student work samples of I had an IEP or student meeting to attend. I use a large file folder crate and a set of Primary colored Smead Hanging File Folders to have the students turn in their work. Each student has an assigned number so that I don't have to label them from year to year. Grab these FREE file folder numbers to slide right into your plastic sleeves. Then I have each student write their assigned number on the top right corner of all of your work so that I can organize them easier. Some of my favorite colors of hanging file folders are Aqua, Lavender, and Pink. I also ordered my teal bin at Target but they no longer sell them, so here is a link to one I found on Amazon. I highly suggest making the change!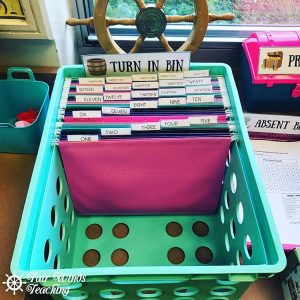 Editable Class Checklist is a Lifesaver…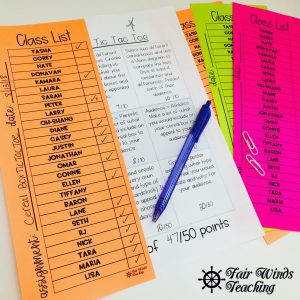 Use this Editable Class Checklist and never lose track of who has turned in an assignment or field trip form again!! Use my simple template to print off color coded sheets of checklists for the entire school year! This is a lifesaver for sure… Check and check!
Supply Labels
These simple School Supply Labels are easy to read labels are a perfect addition to your classroom. There are three different simple colored borders (pink, light blue and green). There are also blank labels available too, however if you are in need of a supply that is not listed, please let me know and I will add it for FREE! Check out all the supplies that are already listed below.
Includes:
☞ 47 supply labels
☞ Pink, blue and green borders
→ glue sticks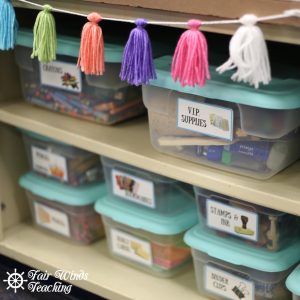 → cap erasers
→ scissors
→ pencils
→ highlighters
→ markers→ colored pencils
→ dry erase markers
→ glue bottles
→ erasers
→ kid scissors
→ lead pencils
→ flair pens
→ grading pens
→ sticky notes
→ command hooks
→ binder clips
→ tape
→ velcro→ hot glue gun
→ hot glue gun sticks
→ magnets
→ sharpies
→ index cards
→ magnetic clips
→ pens
→ notebooks
→ fun pens
→ file folders
→ chalk
→ hanging file folders→ gel pens
→ V.I.P. supplies
→ color pens
→ composition books
→ ziploc bags
→ grocery bags
→ paper clips
→ lanyards
→ crayons
→ folders
→ address labels→ clipboards
→ playground equipment
→ handheld pencil sharpeners
→ correction tape (whiteout)
→ Tissue (Kleenex)
☞ Blank labels included