Are you a teacher looking to spruce up your classroom? We've got you covered with these 20+ classroom bulletin board hacks that will not only make your classroom look amazing but also help you stay organized throughout the school year. From creative cover ideas to storage solutions and adding that extra flair, these bulletin board hacks will transform your classroom into an inviting and engaging space.
Yesterday I went live on the California Casualty Facebook page to bring you my favorite bulletin board tips, so let's check them out!
First off, a bulletin board shouldn't be completely finished BEFORE the students even step foot into your classroom. It should be a process where they get to add value or ownership in some way or another. The teacher's job is to add the background to make it pop! We are going to review the best bulletin board cover, borders, decor (or as I like to call it… flair!), hacks on storing and hanging letters and borders, a bulletin board bin ready for each school year and then of course a FREEBIE!
The MUST HAVE tool kit for Bulletin Boards!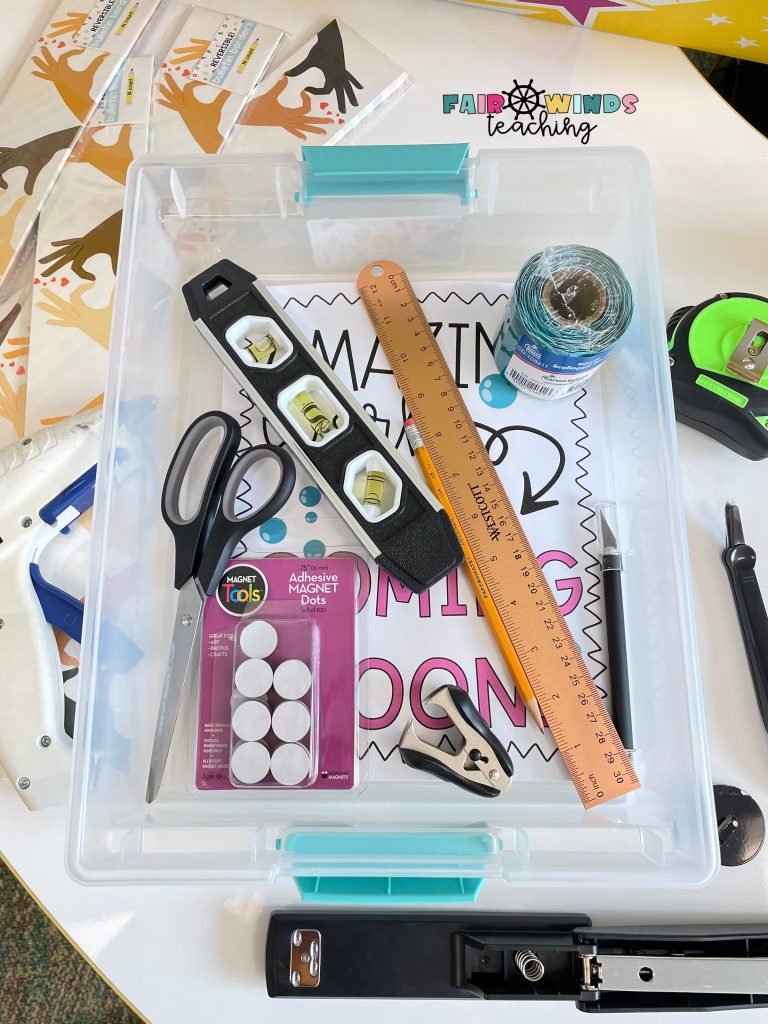 Do yourself a solid and set yourself up for success for every time you change out your bulletin board. That way you don't just one it once in September and forget about it. Grab a medium sized bin and place the following items inside. A ruler, your favorite border, measuring tape, pencil, staple remover, stapler, staples, Amazing work coming soon printable, magnetic dots, scissors and a level. A game changer items is a magnetic wand, this will help you pick up all the staples you dropped on the classroom floor. Easy clean up!
This bin is the first things I take out to set up my classroom each year! It will also allow you to quickly change out a bulletin board throughout the school year. Another great way to use it is to have a parent or community volunteer (for me, it's my mom lol) come in to help and just hand them the bin… boom, they are ready to change out a board.
Covering your board!
I don't know where to start… I love coming up with creative ways to cover my bulletin board with a pop of color. My all time favorite was when I was able to PAINT my old gray/brownish looking one in a school I taught in a few years ago. This school was almost 100 years and my admin allowed me to do this. I would not recommend this without permission. I work in a brand new building now so this option is off the table. However, if you are allowed… I highly recommend. It is quick, easy and cheap and you never had to cover them again (well unless you move classrooms).
I have created an Amazon idea page on my storefront for you to find all the best items I have bought for my bulletin boards.
All the Paper Options
Here are some of your best covering options when starting with your bulletin board. #1 FREE option – your school's colorful butcher paper. I make sure I email whoever does the summer order of paper and request the colors I would like. My favorite is always teal and hot pink!
If you want something that lasts you a lifetime, I would suggest to invest in fabric (don't forget about your Joann's teacher discount). No matter how many times you staple your cloths, it lasts over the years. It's also extremely easy to rip down when you are changing it. I would recommend measuring your bulletin boards first and then getting Joann's to cut the fabric to the perfect size. Don't worry about the end being pretty, it will be covered up by the border.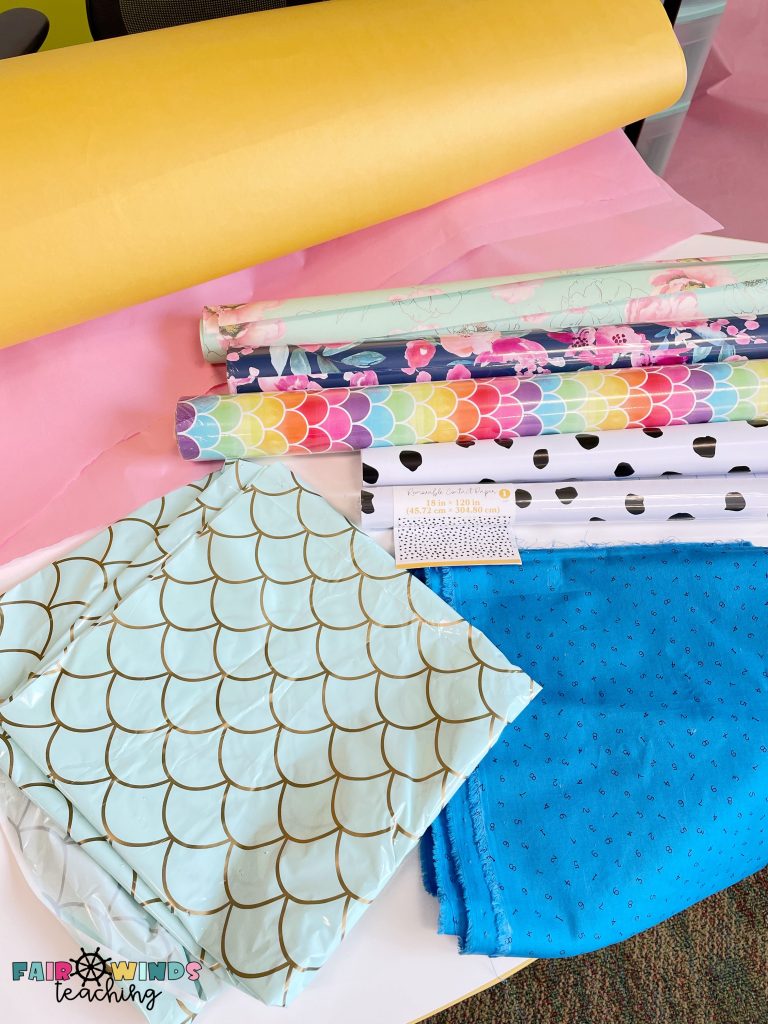 A cheaper option is a plastic table cloth, I love searching the party isle of Target or PartyCity to find a unique and fun color or pattern. I use my mermaid teal scales (and once I found these table cloths, I stocked up on about 10 sets). You can also get ones at the Dollar Tree for $1 but be warned, they are very thin and might rip or be see through.
A more expensive option is contact paper, it sticky and you can find it online or the Target Dollar Spot, I found this black and white dots I am obsessed with and will be using, just not on the bulletin boards. I would suggest using staples, not trying to stick it like wallpaper, what a pain!
A hidden gem is WRAPPING PAPER! You can get crazy patterns and it's WAYYY cheaper then Better Than Paper brand (which is also another great but expensive option). Anytime I found one I love, I grab two! My favorite places to find wrapping paper is HomeGoods, TJMaxx and Marshalls, duh!
Oh yeah… you can even use a shower curtain!
All the Borders!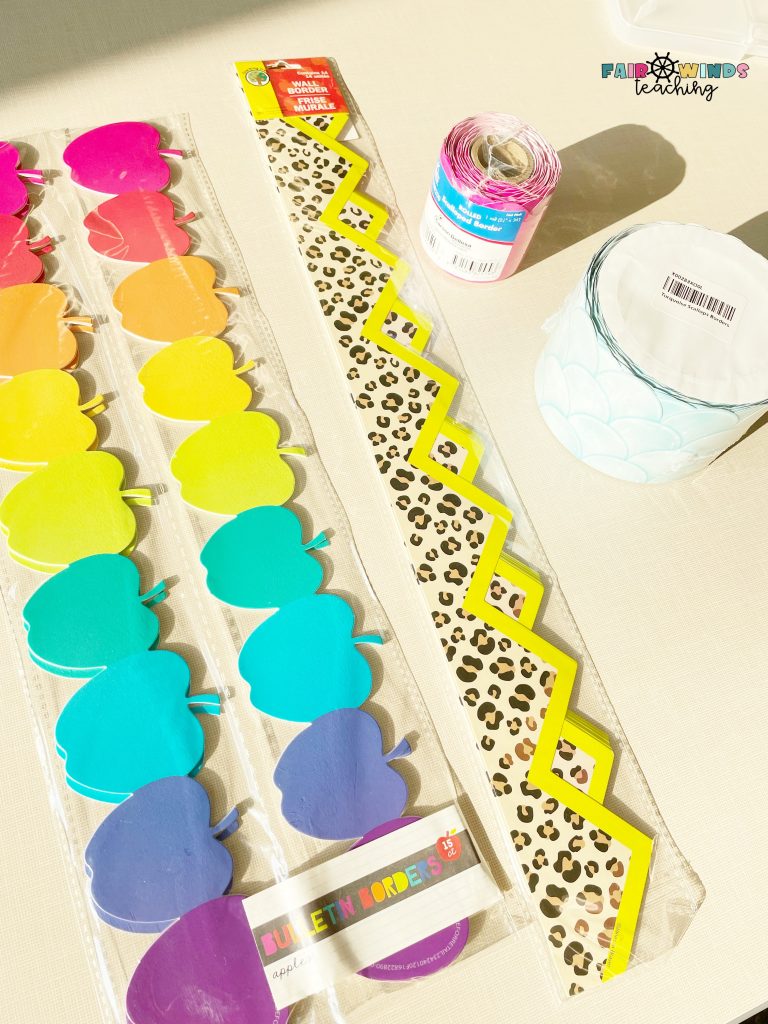 Here are my favorite places to get borders and how I store them! In the picture above you can see an example of boarders from Target Dollar Spot, Dollar Tree, Carson Dellosa, and Amazon!
The best way to store them is to grab some binder clips and command strips and hang them in your closet like this!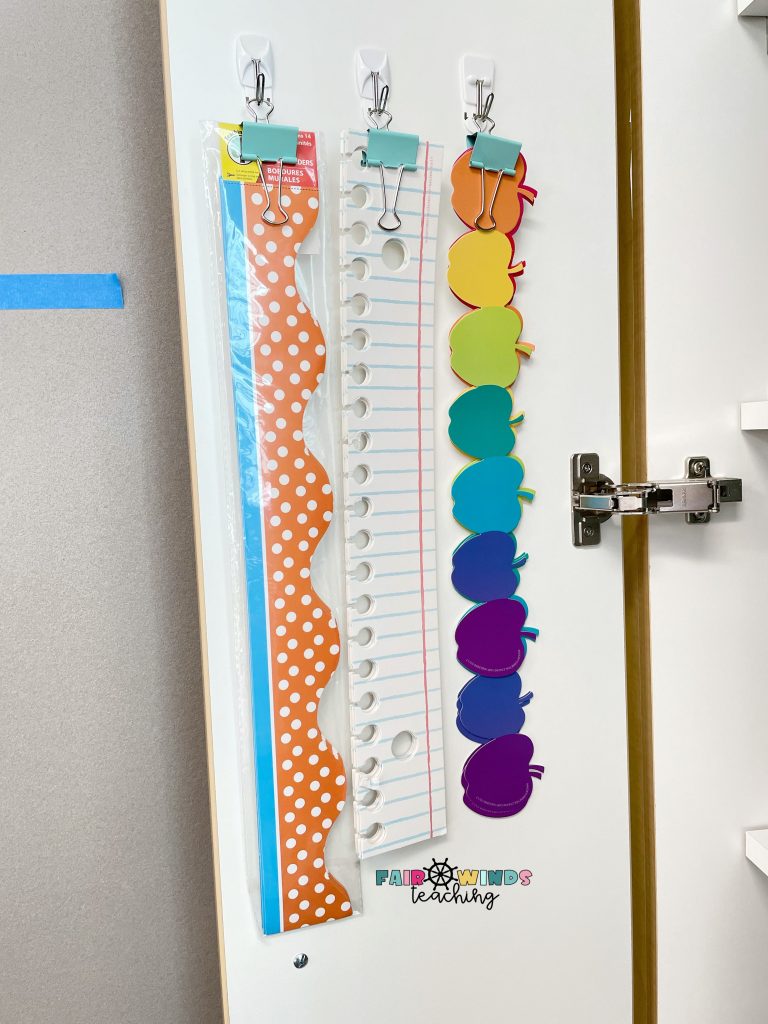 Let's Add Some Flair!
What can you add to JAZZ up your bulletin boards? Literally anything.. but here are some of my favorites!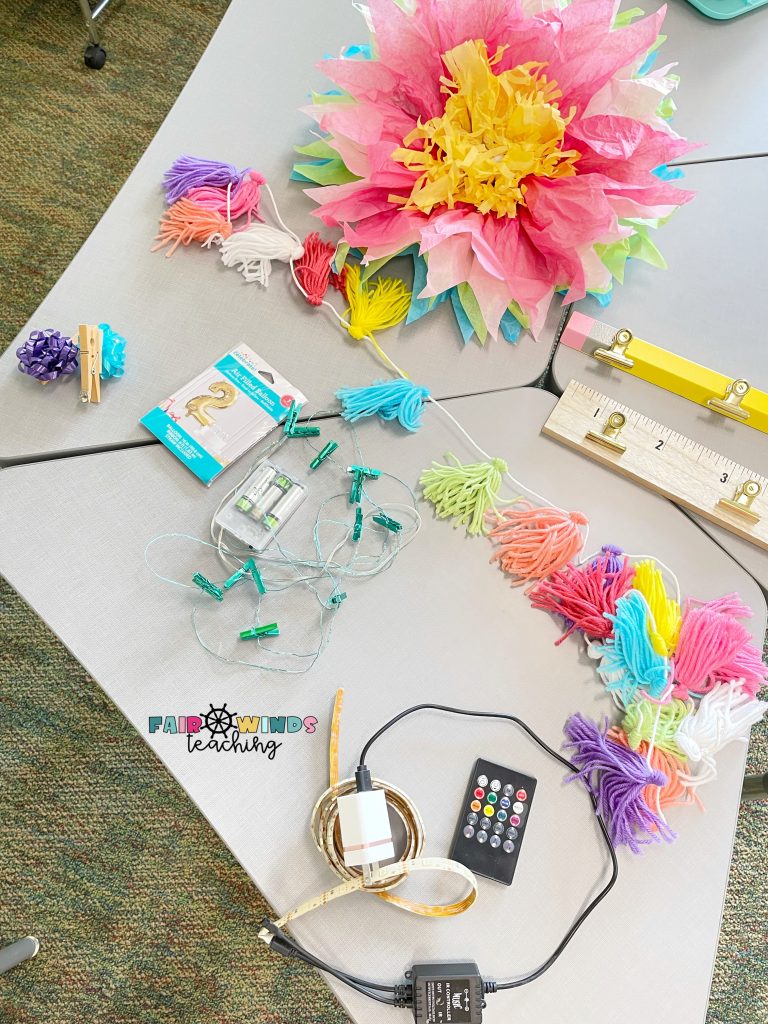 My all-time favorite is the Paper Flower Template from Happily Ever Elementary! If you own a Cricut or Silhouette, these are SVG Clipart images for Cricut and Silhouette Machines. They are amazing, just picture up some pretty colored paper and let your machine do the work.
Also pictured here are tassels, balloons, clips, battery lights, and tissue paper flowers. My best tool is the disco lights with the remote! I put them around my objective board and turn the flashing lights on when I want my class to focus on my objective. I add a piece of velcro on the back of the remote and add it to the side of my board so I don't loss it. It also allows you to let your students light up the board for you! How fun!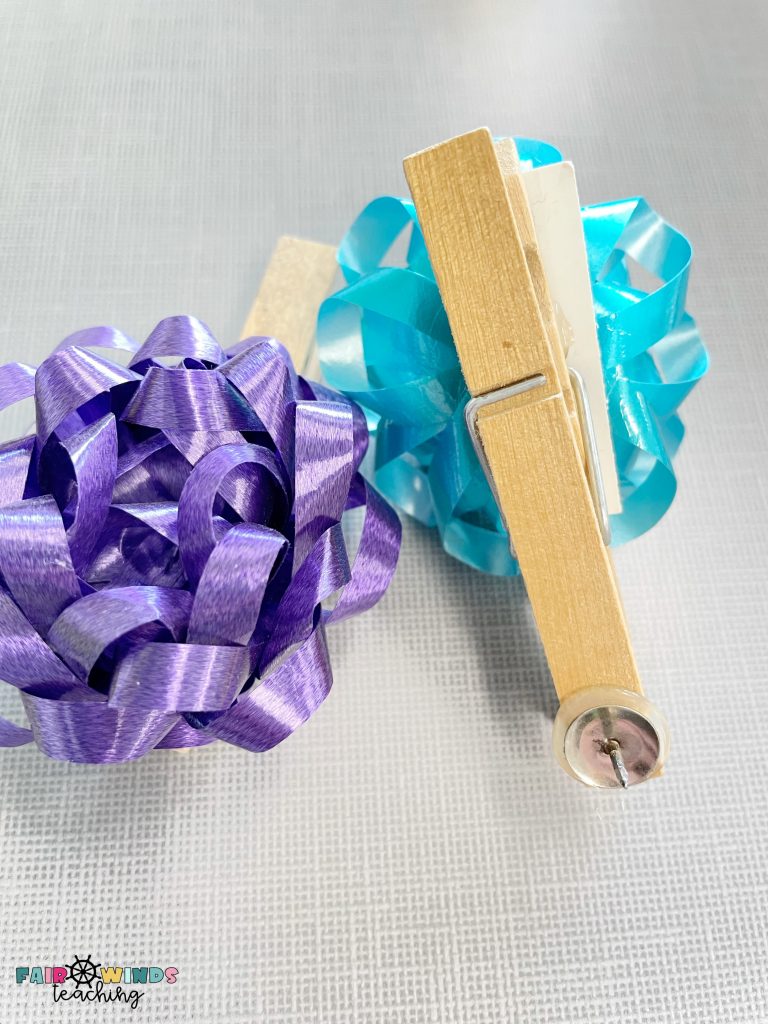 Grab a cloth pin, some hot glue and a thumb tack. Make yourself a bulletin board clip to use for years, I add a little glitter or a fun bow!
Help Me Hang Letters
This one is simple. Grab some painters tape and line up your letters on the table. Add a long strip of tape and then place right where you want it to staple down. Done and done, you can do it for any letters or directions.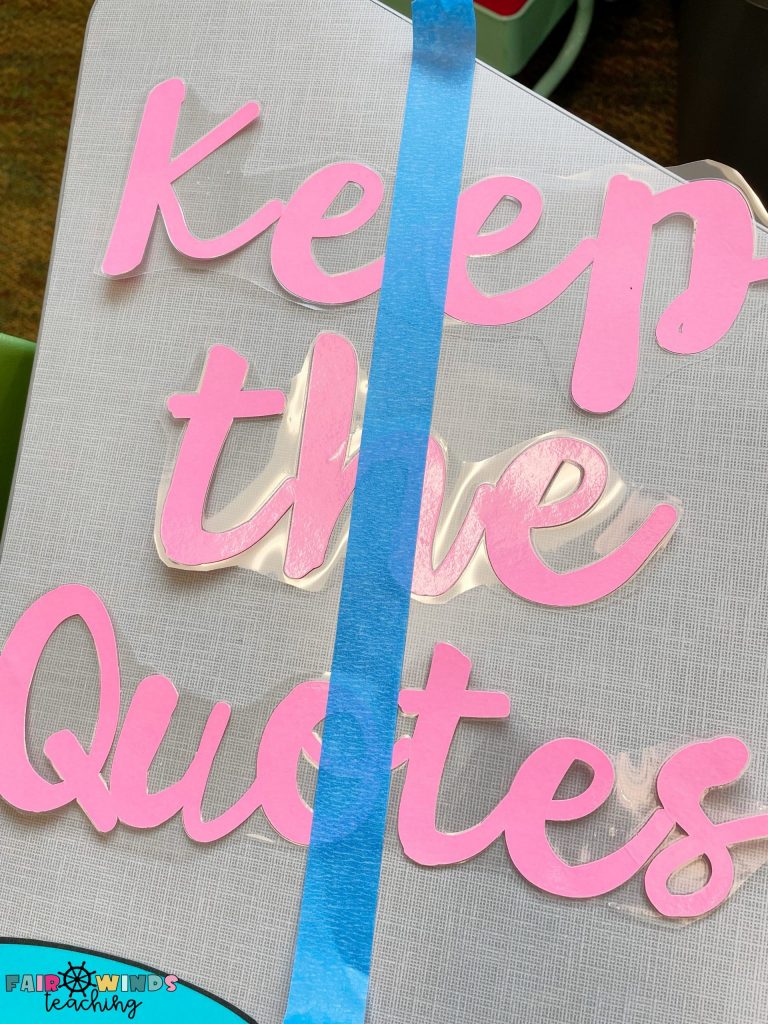 Want Me to Make Your Bulletin Boards for you Year Round!??
Grab my monthly Bulletin Board Resource called, Being the Best You! I have July, August and September posted and ready to go and I will be adding each month and updated the older ones as well. If you grab the bundle now, you get all the other months that will be uploaded for FREE.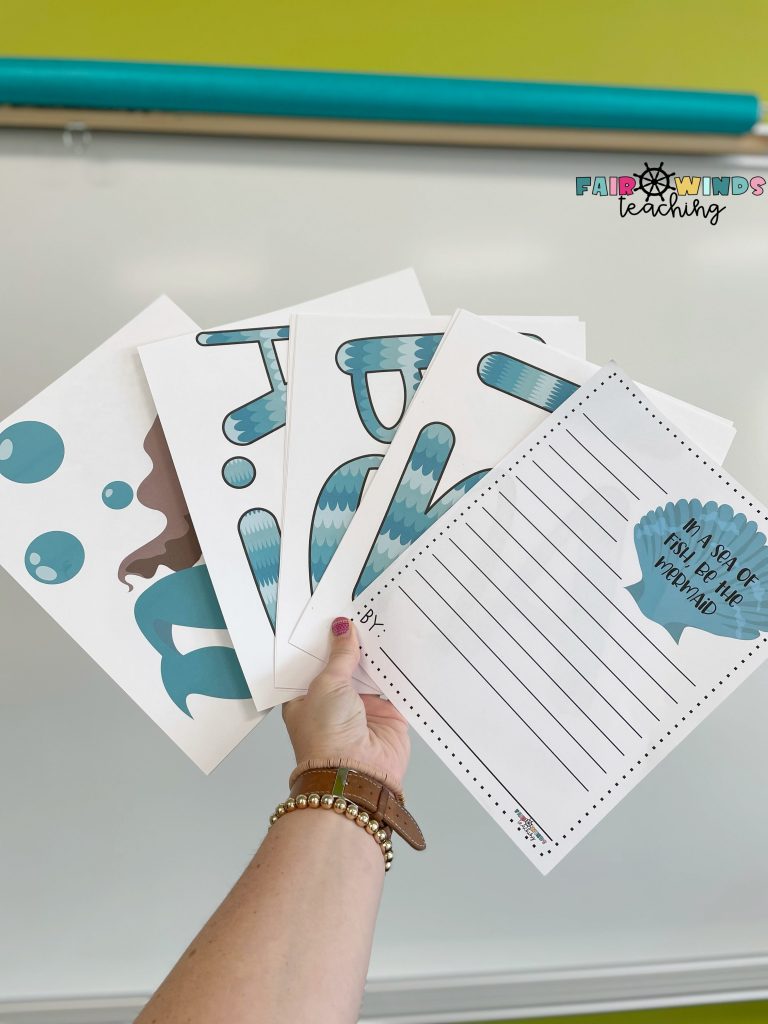 And Now for the FREEBIE!
Once you are all done making your bulletin board, you need to add a quick sign to let everyone know that Amazing work is coming soon or that this classroom is still under construction. Grab both of these freebies NOW in my Teachers Pay Teachers store.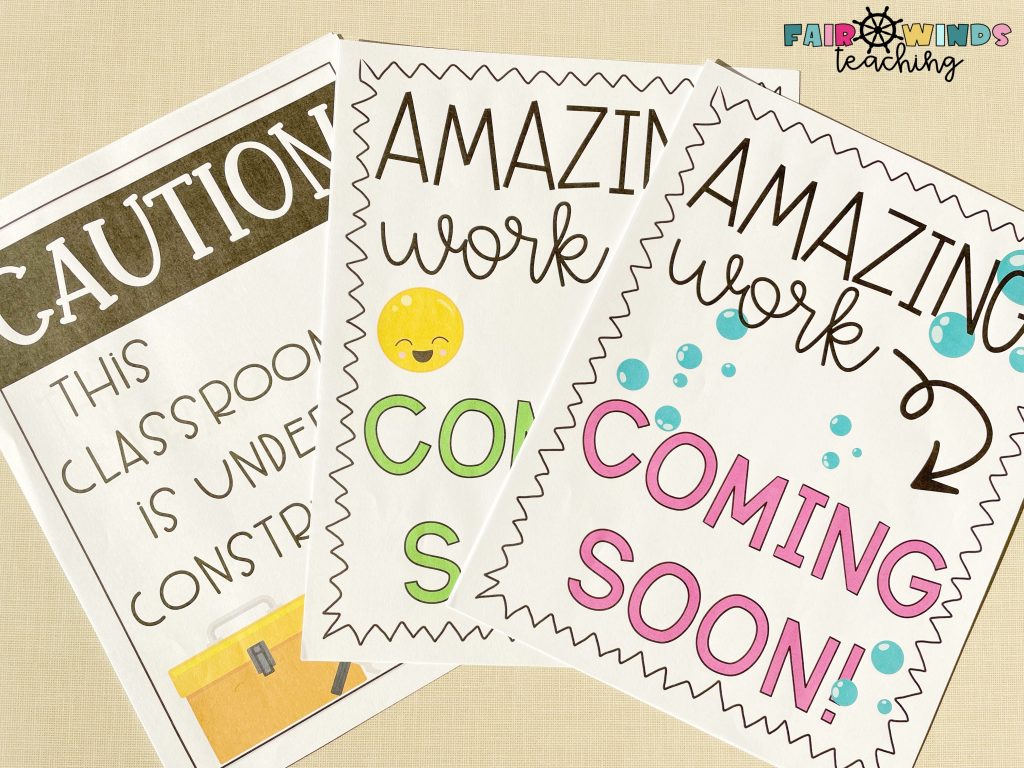 Don't forget to check out this long list of all the goodies you just read about here!
Let me know your tips and tricks in the comments below and I will add them, thanks!
More on FWT! Check out my post on my Favorite Classroom Hacks!
Save These Bulletin Board Hacks!
Don't forget to pin this post to your teacher board to keep these great tips for your Bulletin Board Hacks! And "Follow" Fair Winds Teaching to stay up to date on all the latest!