Having a school Halloween party and need some quick and easy games, decorations, and food ideas. Check out these:
Monster eyeball cookies: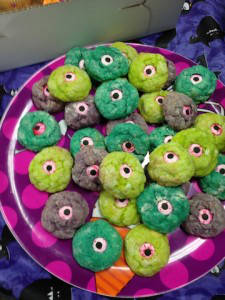 Use sugar cookie dough, spilt into three different balls of dough to dye some fun colors; my picture shows purple, lime green, and teal. Then buy those bloodshot eyeball candies to place on top when the cookies come out of the oven. Roll the cookies into balls and place into the oven for 350 degrees for 15-20 mins. Enjoy your creepy cookies!
Creepy Hand punch: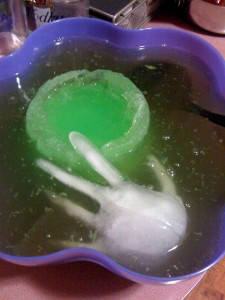 Take a non-powder latex glove and fit it with water, freeze overnight and then cut off the plastic glove right before you want to add it to the punch. I use the green punch with ginger ale so that the frozen hand shows up well.
Ghost Bowling: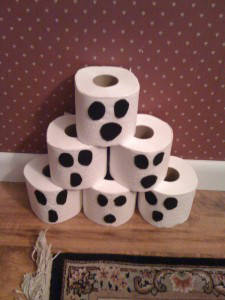 Take six rolls of toilet paper rolls (for each team that you want to play) Buy pre-sticky felt (black) and cut out some big ovals (eyes) and small circles for the mouth. Use a small pumpkin as the roller ball. Fun game and easy to do!
Chocolate Ghost milk: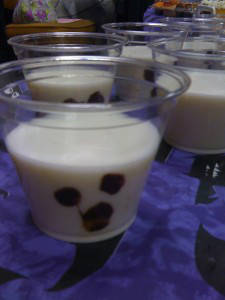 Melt a little bit of melting chocolate in a pan, use a small spoon to add three dots of chocolate to the side of small plastic cups. Let them dry and stack them up to take to the party. When ready, simply fill the cups up with cold milk, the ghost eyes should say there. Boo!
Scary Cupcakes:
Bake or buy regular size cupcakes. Then use icing to decorate them any way you would like to. Use orange icing to cover completely and add a small piece of tootsie roll and a green leaf to look like a pumpkin. Or buy some more of those premade eyes, and then create strips of white icing to look like mummies. If you are really good (I was not) you could try to use icing to create mini skeletons.
Enjoy your parties!