There are many reasons why someone might want to create a screencast to give/show directions. It is not an easy task if you don't know what to say or how to navigate through your computer to show the user where to go during your screencast. A great way to help your screencast become professional and well received is to create a storyboard. A storyboard maps out scene by scene (screen by screen) and also lets you take notes and write down a script of what to say when. This will help you be more prepared before you begin recording your screencast.
Here is an example of a storyboard of how to make an egg.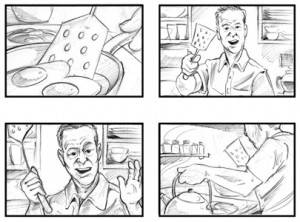 Photo credit: http://www.claytowne.com/ct_gallery_ill_storyboard_95.html
Linked here is a website where you can print free storyboard templates to use for your screencasts.
Once you are ready with your storyboard.. here are some website or applications to help you create your very own screencast.
After a year of dev we're excited to announce #SOMv2 is ready for beta! http://t.co/XLw6t96yED
— Screencast-O-Matic (@screencasto) August 13, 2014