Finishing up my First Year of Teaching!
This year has been a complete blur, it has gone by so fast and I think it is hitting me that it was all real. I couldn't be more happy with how it went! I loved every second.
My best advise is to label EVERYTHING with you name! Books, boardgames, CD's, BIG books, any thing that belongs to you personally. I attached some useful labels, simply change your name and their yours! I would print a few sheets of each and have them on hand in the classroom. You never know when you will get new books or supplies.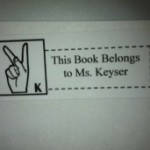 Click here to download a FREEBIE from my TPT site, it is labels with the letter (picture) K on them, you are able to edit. They are printable on a Avery template for 30 shipping labels a sheet.
Click here to buy a mermaid sheet of labels for your books as well. I hope you enjoy! If you would like personalized book labels, please feel free to email me and I would be happy to help you for FREE!