This site is a printing website that I use at least once a month, if not more. Vista Print is a printing company that does everything from business cards to tote bags. They offer some free items that you defiantly have to take advantage of!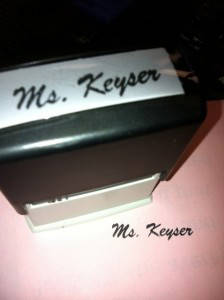 They do one free pen, 250 printed business cards, stamps, bumper stickers, magnets, and a lot more!
I also order some things too! When I go on to buy one item I make sure I get all the free stuff to go along with it!
These are some examples of the things I get:
Stamps: I have gotten two stamps with my signature on it. This is awesome to have in a classroom when you have to sign 30 progress reports or 30 parent notes or show that you saw their work. It has been a life saver!  I also have a stamp that says, "Work done with Ms. Keyser's Help." This is a nice way to tell the parents that the child needed help and also to remind you when you go back to grade it.
Business cards: I use these for a lot of different reasons. The number one is to give my parents my information at the beginning of the year and then every time they lose it throughout the year. You can pay a little bit more to make them into magnets so that your information is on their refrigerator.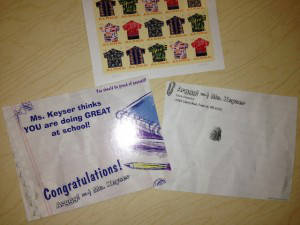 Another great way I use it is to staple a card to the monthly scholastic order forms to tell the parents what my class code number is and then I date stamp the date that it is due. Great time saver!