Here is another couple great end of the year gift ideas.
I wish I had SMORE time with you!
Grab a small bag and add in a couple marshmallows, some graham cracker and a chocolate bar. Then print off the attached pdf. on my TPT site and use some fun craft scissors to cut them apart. Staple them on the bag and hand them out. Enjoy!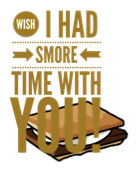 Your Future is SO BRIGHT!
Buy some fun sunglasses at the Dollar Tree or on Amazon then print off my pdf. on my TPT site and you have yourself a cute, quick and easy gift for your students at the end of the school year!